Your photographs expertly restored, retouched & edited from just €10…
Pictorium Photoshop are the experts on restoring and editing photos. Click here to see "Before & After" Photos
Every day customers provide us with treasured old photos to restore, each one with a unique story
The only photo of their great grandparents from 1894…
The picture of his dad outside his shop from 1928…
The relatives that moved to Australia in the 1940's
Her husband with the long hair in the 1960's…
Many of our clients are surprised as to the extent of what can be done to repair or even enhance a photo. So we would like to share some of photos that we have restored and repaired.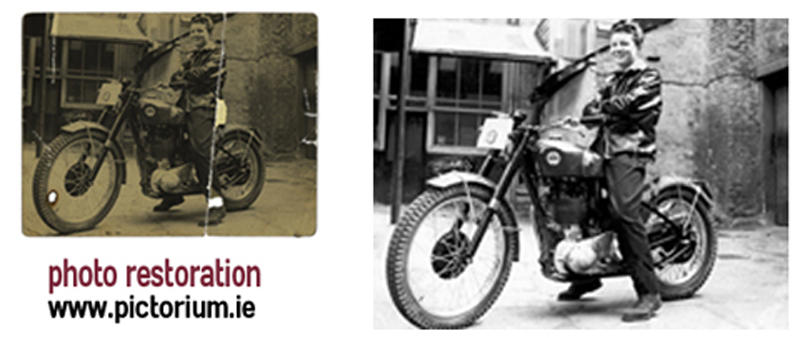 When we received this photo it was in a pretty poor state, the damage included;
Burn Marks
Stratched & Creased
Part of the photo was missing
Colour was very dark
To restore this photo we took an initial high resolution scan and got to work! The first step was to balance out the colours of the photo to get rid of the discolouration. Once that was done we fixed the burn marks, scratches and tears etc.
We have to say we're pretty happy with the final result, as was the customer!
If you have an old photo that you think could do with a bit of tender loving care, please do get in touch with us for a free consultation and estimate.
Print onto a Canvas, as a Poster Print or in one of our beautiful Photo Frames.
They make really thoughtful presents that are sure to put a smile on their face!
Ideal gift for Christmas, Wedding, Anniversary, Birthday, Valentines Day, Mother Day, Fathers Day, Christmas…
Fill your home with everlasting memories.
We have a very central location just a few minutes from: Glenageary, Dun Laoghaire & Dalkey; Cabinteely, Corneslcourt & Foxrock; Stillorgan & Blackrock.
No 3 Monkstown Court
Monkstown Farm – Opposite The Credit Union
Glenageary, Co. Dublin
A96HK30
Tel: +353 1 284 6106
Email: info@pictorium.ie
Tues-Fri: 10am to 6pm
Saturday: 10am to 4pm
We do not open Saturdays of Bank Holiday weekends.
Available: 7 Days a week for Photoshoots
Call Lucy: (085) 776 7426
Email: luluphotography@pictorium.ie